The Holocaust by bullets - Shoah Memorial
The start of a genocidal policy
During the invasion of Austria, in March, 1938, Himmler and Heydrich created the "Einstazgruppen" for the first time. These "SS intervention groups" were mobile commandos whose job was to arrest and, if necessary, execute individuals the regime considered to be enemies. They were initially made up of SS officials and the police.
On the eve of the war, the regime's prime objective was to conquer the
"vital space to the East", bringing in the Einsatzgruppen to implement the genocidal totalitarianism of the regime alongside the Wehrmacht. Ukraine was to be at the heart of this new "vital space": Jews were to be killed, "the Slavs" were to be left to die of hunger or reduced to living in miserable conditions and forced labor alongside "German settlers" in one of the Europe's richest agricultural lands.
The Jews living in conquered Poland were assembled in immense ghettos as of the Autumn of 1939. Hunger and epidemics brought about the death of many thousands of them. From September 1939 onwards, the Einsatzgruppen massacred more than 70 000 Poles and Jews in just a few weeks.
When the Wehrmacht first entered Ukraine in June 1941, the Jews in the West, including refugees who had fled the invasion of Poland in the Autumn of 1939, were caught in a trap. Several thousand managed to get away, although they were often caught and killed. The Einsatzgruppen commandos attacked the
« communist officials » and « members of the Jewish intelligentsia » first of all.
However, right from the start of the campaign, Himmler went in person to the sites to suggest that women and children be killed as systematically as the men. In August and September 1941, every German unit (Waffen SS, Einsatzgruppen, Ordnungspolizei – police enforcing law and order) progressively adopted systematic genocide. And from then onwards, what the Nazis called the "treatment of the Jews" in Ukraine was incorporated into the overall plan for the "final solution to the Jewish question in Europe".
Map showing the Jewish population across the administrative regions of Ukraine (Oblast) according to pre-June 1941 official registers.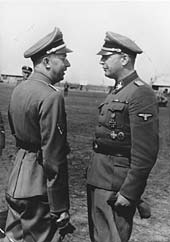 Reichsführer-SS Heinrich Himmler (on the left) and the Chief of police Hans Adolf Prützmann (on the right), probably taken during Himmler's visit of the SS Viking Division. Ukraine, 1941-1943. Credit: © USHMM, courtesy of James Blevins